Transporting Your Horse By The Rules
What requirements have to be met and what documentation do you need to move your horse in 2014?

Transportation
Rachel Alexanda getting off a transport plane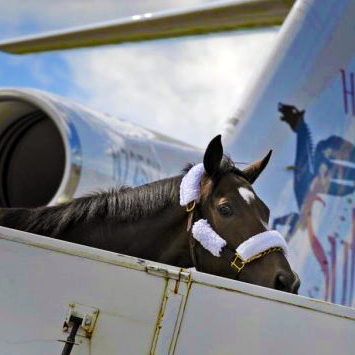 Soon the weather will be getting warmer (wishful thinking!) and we will have horse outings on the brain. Whether you are planning to travel within the state to a local show or to another state for a trail ride, there are individual show and government requirements that you need to abide by to do so legally.
&nbsp
The first item of business you need to take care of for both interstate travelling and to enter most horse events intrastate is a Coggins test. The Coggins test is a blood test that checks for Equine Infectious Anemia (EIA), a viral disease transmitted through blood, usually by flies and other biting insects. There is no vaccine or cure for EIA, and infected horses have to be either permanently quarantined or euthanized to prevent spread to other equines. This is why it is important to test horses yearly, after 6 months of age. Foals less than 6 months old may test false positive from remaining maternal antibodies from a positive mare, hence the wait. A Coggins test is relatively inexpensive and can be completed within a few hours or days depending on the lab used. Our clinic runs the test in-house and we can do both ELISA rush Coggins tests which are finished in an hour, or AGID Coggins which take a few days.
The second most common requirement for travelling is a health certificate, or certificate of veterinary inspection. This form must be completed by an accredited veterinarian after examining the horse and its negative Coggins form, and accompany the horse during shipping. Horses with signs of infectious disease or with a fever cannot legally be issued a health certificate. Most states, including Pennsylvania, require a health certificate dated within 30 days of entry for interstate travel. Some states and organizations (racetracks, showgrounds) may ask for a health certificate written in a shorter period of time, or with additional information added to the paperwork, such as vaccination dates. It is important to check with the state of import before travelling to make sure you have the proper documents in time.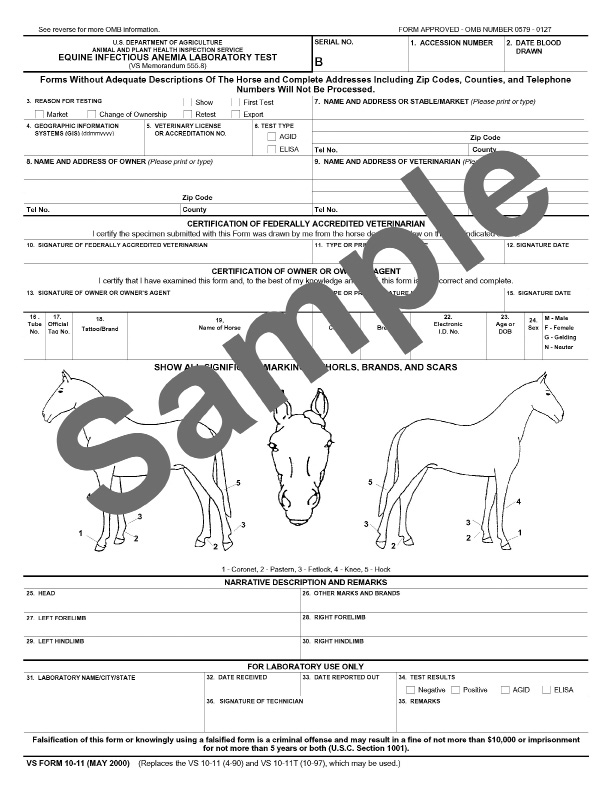 Each state has their own unique requirements regarding Coggins tests, health certificates and horse movement. Pennsylvania requires any horse over 6 months old coming into the state to be accompanied by a negative Coggins form from a test completed within 12 months of the date of entry, and a health certificate. Horses less than 6 months old travelling without their mothers also need to be tested and need a health certificate. The only exception is horses being transported to slaughter. Pennsylvania does not require a Coggins or health certificate for intrastate travel, but particular destinations such as showgrounds, racetracks and boarding stables may require one. Pennsylvania does not require a new Coggins for change of ownership.
New Jersey has more particular Coggins statutes, but the 6 month old age rule still applies. No horse in New Jersey may travel within the state on any public highway without a Coggins dated within the past 24 months. Horses must also have a negative Coggins within the 90 days before changing ownership, whether by sale, barter or giving away the horse. For example, horses travelling into New Jersey to be sold at auction need to have a Coggins test completed before entering the state. Horses may no longer come from out of state and be tested while at a New Jersey sale. Horses being imported into New Jersey require a health certificate within 30 days before entry and a Coggins within 12 months before entry. Horses moving within New Jersey are not legally required to have a health certificate, but again, local organizations may require one.
Some states are notable for having different entry requirements. Previous to January 1, 2014, California required a Coggins drawn within 6 months of entry, but this has now changed to 12 months. Certain states require what is known as a brand inspection for completion of the health certificate to prove ownership of the horse. These include Colorado, Idaho, Montana, Nevada, New Mexico, Utah and Wyoming. Other states, including Illinois and Montana, require a permit to enter. When filling out your health certificate to travel into one of these states, your veterinarian must call ahead to the state of destination and obtain a permit number, basically giving you permission in advance to enter their state. Other differences between states include requirements for particular tests, such as Equine Viral Arteritis in breeding horses, and piroplasmosis in more western states, or particular vaccinations. Since state rules can change yearly, it is good to check with any state you plan to visit in advance.
New programs are being developed to provide longer-term travel documentation for horses, but they are not available in all states and have very specific requirements. One such state is Virginia, which is offering an Equine Interstate Event Permit (EIEP), allowing horses to travel for 6 months (instead of using 30-day health certificates) between Virginia, Alabama, Arkansas, Florida, Georgia, Kentucky, Louisiana, Mississippi, North Carolina, Oklahoma, South Carolina, Tennessee , Texas, and West Virginia. New York has also recently joined this group of states and offers something called a Go Pass, which allows transport between New York and the states involved in the EIEP program for 6 months. You should plan ahead and contact your veterinarian to discuss what is involved in certification for these programs. Neither Pennsylvania nor New Jersey is currently offering health documentation of this type.
Travelling out of the country (even to Canada or Mexico) can be especially complicated. Shipping a horse to Canada involves a special health certificate accompanied by a Coggins dated within 6 months before transport. Exporting abroad may require several weeks of paperwork preparation and testing, as can importation into the United States. It is very important to understand the laws regarding each country before making any travel arrangements, so that there is sufficient time to complete the necessary aspects for movement. Quarantine also varies by country. For the most complete information regarding international travel, you should visit the USDA APHIS website.